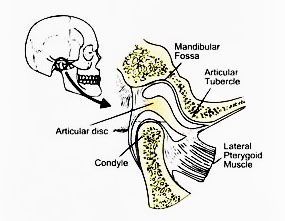 TMD, commonly know as TMJ, are a group of musculoskeletal disorders that involve the temporomandibular joint
Many people, even doctors, nurses, and insurance companies, use the term TMJ. But what does this abbreviation mean? The term TMJ is an abbreviation for Temporo-Mandibular Joint, or the jaw joint. In fact, there are really two TMJs, one in front of each ear. The TMJ is the joint formed by the temporal bone of the skull (Temporo) with the lower jaw or mandible (hence, mandibular). These joints move each time we chew, talk or even swallow. The TMJ is actually a sliding joint and not a ball-and-socket like the shoulder. This sliding allows for pressures placed on the joint to be distributed throughout the joint and not just in one area. The TMJ is the most complex joint in the human body. Placed between these two bones is a disc, just like the one between your back bones. This disc is primarily made of cartilage and in the TMJ acts like a third bone. The disc, being attached to a muscle, actually moves with certain movements of the TMJ.
The nerve to the TMJ is a branch of the trigeminal nerve and therefore, an injury to the TMJ may be confused with neuralgia of the trigeminal nerve. The two bones of the TMJ are held together by a series of ligaments, any of which can be damaged, just like any other joint. A damaged TMJ ligament usually results in a dislocation of the disc, the lower jaw, or both. Also, the bones are connected by two main muscles: the temporalis, the masseter, and a muscle discovered by Dr. Shankland, the zygomandibular. Any or all of these muscles may be painful and produce pain in the TMJ or at the very least, abnormal movement of the lower jaw.
If there's an injury to one or both TMJs, some of the following symptoms might occur:
TMJ clicking or popping
Headache pain
Ear pain and at times, pressure
Ringing or noises in the ears
TMJ catching or locking
Change in occlusion (bite)
Neck, shoulder and upper back pain